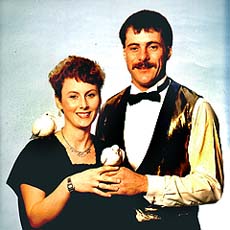 Our first real introduction to magic was in 1985 while doing a theatre show in Gisborne. John Zealando, featured magician in the show, inspired us and introduced us to Jim and Pam Reilly. We are now full time professional after 9 years of being a part time.
Our interests in magic cover Stage, Cabaret, Children's, Strolling, Restaurant (Close-up) and Balloon Sculpturing. We are in our element when on stage working with our animals and illusions. We also enjoy doing children's parties, we seem to have an unusual way of holding children's attention past the norm and have become quite well known for it.
We very rarely do a show without our animals. 2 rabbits, a brown one and a white & grey tip one with anything up to 8 doves (we have 20) in any one act.
With Bill being involved in martial arts and as we have both been competitive roller skaters, we have found this invaluable in being able to draw from our experiences to add to our act. We are working on an act on roller skates but have struck a few problems along the way.
We are both members of Hawke's Bay Magicians Society and Palmerston North Magic Society.  Bill was the Secretary of the Hawke's Bay Magicians Society for over six years from 1987 when the club was brought out of remission and now a very strong club.  Bill has also been a member of IBM Ring 160 for 10 years, SAM for 4 years, ISM for 2 years, NZ Variety Artists Club and a founding member of MagicNZ BBS.