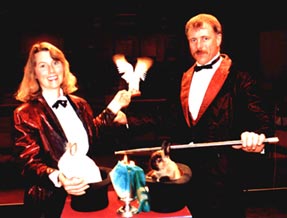 Bill and Mandy have been performing professionally since 1985 and Bill has been full time performing since 1998. Being versatile performers of magic they have performed in many situations and go out of their way to make sure that their customers are happy with the results.
ENTERTAINMENT is the main objective backed up with polished, professional, award winning performances.
Whether it is a children's birthday party, 21st party, cabaret, trade show or corporate function, the show can be adapted &/or personalized to suit the occasion.